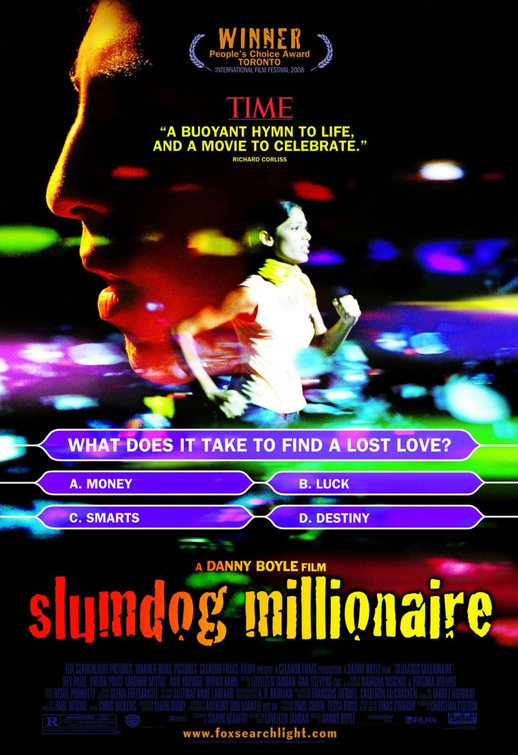 At Last.....I've seen it! I dropped George at nursery and my husband and I nipped over to
Bluewater
for a cinematic treat. Wow...what a visual feast of a film and a fabulous story. It made me laugh, cry and want to learn
Bangra
. I loved it. The soundtrack is brilliant too. If you haven't seen it...do. Especially make an effort if you are in Year 13 doing Film as we are going to be studying Brazillian film 'City of God' by Fernando Meirelles, and Slumdog is seemingly inspired by narrative and stylistic elements of this groundbreaking film set in the slums of Rio. 
In fact I have seen quite a few films over half term with
Slumdog
being my favourite but closely followed by 'The Boy in the Striped Pyjamas' and Werner Herzog's 'Rescue Dawn' starring Christian Bale. Liam
Neeson in 
'Taken' was pretty good too- a good Sunday afternoon action movie with plenty of kick a**s moments to enjoy. Boy in the Striped pyjamas was beautifully simple and haunting. A film I'd love to teach. I am passionate about WW2 films and this one had me crying like a baby. We also watched Guy Ritchie's latest offering and both of us thought it was a sham. So much hype and such little substance! 
It's been really lovely to catch-up with some films and TV. I'm hoping to see
Fincher's
'Benjamin Button' later this week and I'm engrossed in Series 1 of Madmen which is amazing. A real treat. Series 2 of Mistresses is also quite good. Anyway, I hope you are all enjoying your break too and having a fab time in Amsterdam or at home. Whatever you're up to.....have fun! x